Successful Bids 2022
Shepway Spectrum Arts - awarded £500
Shepway Spectrum Arts provides benefit to the community by bringing together the profoundly disabled alongside able and gifted individuals. They provide specialised therapeutic music, movement and art sessions in a safe and inspiring environment where social or intensive interaction can take place. Sessions are built around the individual needs and requests of clients with a 'Drop In Centre' policy whereby clients can access sessions at their convenience.
Their bid was to improve wheelchair access to their Sensory Garden by providing a solid paving path through the garden to the trampoline and swing, and also to put in a raised flowerbed for wheelchair users.
Touchbase Care - awarded £500
Touchbase Care is a dynamic community group, located in Folkestone's Creative Quarter which takes an innovative and holistic approach to supporting adults and young people with physical disabilities, learning difficulties, neurodiversity and sensory impairment.
For the last couple of years, they have been working with local composer and writer Anna Braithwaite who worked with members to create The People's Report which looked at how individuals viewed Folkestone and the area. Anna was particularly interested in working with the group, many of whom have mobility issues, to gauge an understanding of how their disabilities and needs are catered for (or not) in the local area.
Anna was recently commissioned by the Royal Opera House to produce a Micro Opera at St Pancras Station on International Woman's Day, 8th March 2022. This opera, titled The Hardest Journey focuses on the theme of an individual's 'invisible baggage' and how this impacts their travel. As part of her writing Anna interviewed a number of Touchbase members to gather information about their experiences, in particular focusing on those who have non-visible disabilities.
Their bid was to take the members involved to see this one-off performance in London and to make the day an exciting and memorable one with a meal afterwards to celebrate their contribution to the performance.
Outcome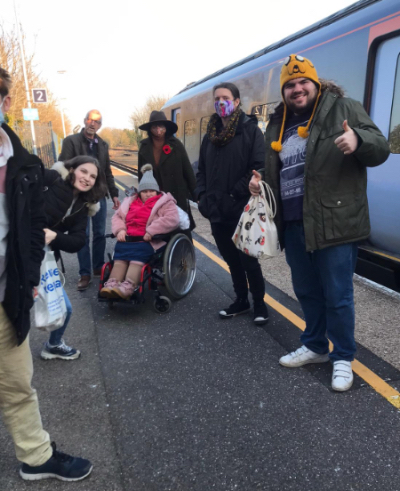 Nine members duly set off on their special day out, and the various elements to the day included the train journey, helping with independence and problem solving, the participation, the entertainment and of course, eating a meal together in a restaurant.
One of the group described how she had avoided train travel for years following bad experiences with ramps and accessibility as well as resistance from the public. This time she described her delight at being able to be fully included in a whole day of an adventure. Others explained that they cannot go to London without this level of support but found it exciting and enjoyed being challenged to try new things, even when it was "a bit scary".
Following the trip, President Kate McNeice visited the Centre, and each member described something that they will remember and something that they learned. Jokes were repeated and clearly a lot of laughter had taken place, and yet each person had faced and overcome a real challenge.
Incredible Edible Cheriton and Broadmead - awarded £250
Incredible Edible Cheriton and Broadmead was founded in 2019 to create beautiful edible spaces in Cheriton and Broadmead. Their bid was for funds to beautify and "green up" Folkestone West Train Station and they are in the initial stages of talks with the station to add large planters filled with edible food on the platforms, which anyone can help themselves to. There is a lot of unused land at Folkestone West which the group hopes in due course to gain access to and improve for the benefit of local people and wildlife.
They are also adding more edible growing areas around All Souls Church so that local people can help themselves to fresh food. The main garden in front of the church hall which was planted at the start of lockdown is already feeding a few people - not just the Incredible Edible Team!
Cheriton Pentecostal Church - awarded £500
The Church started a youth club in September 2021, open to children from all backgrounds between the ages of 7 – 11years old, as a direct response to the needs of children following Covid and the lockdowns, encouraging them to get out of the house and meet other children, whilst doing fun games, activities and arts & crafts. There is no charge for the club and all the workers are voluntary.
An average of 16 children attend each week and they love coming and meeting in a safe environment. However, there is little for them to do at the moment. and so their bid was for equipment, such as a table-tennis table and other table games, as well as resources for arts, crafts and baking activities.
A number of children in the club have extra needs and would greatly benefit from a sensory/wellbeing corner with big comfy cushions, bean bags and fidget toys to help their emotional stability and conduct within the club.
In addition, the group has plans to cater to the next age higher age group 11+ and envisions being part of a community network that can provide support to young people and their families.
Music & Arts for the Shepway Community (MASC) - awarded £300
MASC provides projects and sessions aimed at four key demographics - children, people over retirement age, people living with disabilities, and people living in social and economic deprivation, and their main priorities lie with their choirs:
Shepway Primary Singers - a weekly choir for children of primary school age
Shepway Youth Voices - a choir for children of secondary school age
Shepway Voices – a choir for adults
Headstrong Singers - a singing group for people who have suffered with head injury, stroke etc, and their carers and families
All four choirs are free to join and to attend and there are no auditions.
MASC also runs various free arts projects aimed mainly at children including Let's Create and Fool's Art Days, and Generation Link – a music project that brings schoolchildren and the local retired population together.
Each of the choirs performs at concerts and various community events throughout the year and, although at some of these, members wear designated choir shirts with a logo, there is nothing to advertise who they are, to promote the choir or to give information for prospective new members.
MASC's aim is to engage with the local community and encourage more of them to join in and so their bid was to enable the purchase of 5 advertising banners, one for each of their choirs and one to promote the organisation.
Sea Cadets - awarded £300
The Sea Cadets would like to send all 47 of their cadets, (Junior, Sea and Marine) to experience the outdoor recreational activity at Skywalk Folkestone to recognise the hard work they have delivered during the various COVID lockdowns and which has only accelerated since the unit has been allowed to reopen.
The skills and dexterity required to complete this course are indicative of the Corps' beliefs and traditions.
Granny Drops a Clanger - awarded £300
This voluntary group runs a knitting and crochet group in Folkestone where anyone - young or old - can learn how to knit for free. The group currently has three men and children as young as nine years old being taught by older ladies and crosses social divides working with local artists and groups, such as St Peter's Primary School and the Quarterhouse Theatre. It provides an opportunity for differenet generations to meet and learn a resource to aid good mental health.
Its bid was for funding for a safe space where people are welcomed and don't have to spend money at a bar, or on food. Speedway in Folkestone has kindly offered each Thursday night for four hours from 6-10pm for £25 a night. This is somewhere that people can talk, relax, learn a skill that will be a tool for resilience in difficult times and meet new people and make friends at no cost to themselves, other than turning up with a smile, some needles and wool.
Coastwatch - awarded £300
NCI Folkestone operates autonomously as part of the National Coastwatch Institution (NCI). It receives no funding from NCI or any Government officeand therefore needs to generate its own funds.
Its aim is to provide support to search and rescue organisations, including HM Coastguard and RNLI, by being "eyes and ears" over the stretch of the Channel from Dover to Dungeness. It operates from a watch-station on Folkestone's East Cliff, where there is 180 degree visual capability and the ability to monitor VHF radio traffic from the search and rescue units, ships and other craft within range. Part of its responsibilities is to monitor the local fishing fleet leaving and entering the harbour so that the appropriate authorities can be alerted in the event of problems. It also monitors members of the public using the waters off Wear Bay, Sunny Sands and Hythe Bay and can alert the Coastguard and RNLI and direct them to anyone in difficulties.
Its bid was for funding to improve the security of the watch-station.
Beacon School - awarded £200
With the arrival of the F51 skateboarding facility, the school would like to be able to offer skateboarding sessions to students at The Beacon to both equip and inspire them to become involved in this activity outside school.
Skateboarding is a growth sport in Folkestone with lots of opportunities for participation and being part of an active community. The Beacon caters for students with disabilities and believes that by investing money in such an opportunity it would ensure that young people with disabilities are given the same opportunities.
In addition, the school would like to offer their students the chance to design and personalise skateboards as part of an Art and Design Technology project.
Stella Maris School - awarded £250
Their bid was for a project involving a local artist working with children to create a mural on an old shipping container in the school grounds. The project would also include planters and planting with edible plants to enhance the area around the container.
FESI - awarded £500
The FESI Choir consists of pupils from five schools in East Folkestone - St Eanswythe's, Castle Hill, St Peter's ,St Mary's and Christchurch - and was set up for children to develop their talents and interests, grow in self -esteem and mix together socially. They then would have friends for starting secondary school and Year 7 and 8 pupils are encouraged to continue to be involved in the choir and perform to the community.
St Eanswythe's school employs a professional choir mistress who is also a singing teacher and a musician and their bid was to raise funds to continue to offer this free club and to purchase percussion instruments for pupils who prefer an instrument to singing.
Christchurch School - awarded £500
The school is keen to develop a love of books and reading for all its children and would like to develop the children's opportunities to own their own books and share them with each other. Many of the children in the school do not have books at home.
Their bid was to set up a book swap shed in the school playground, manned and owned by the children themselves during break times/lunch times and before and after school. The shed would be fitted with shelving, book storage boxes and signs and a supply of initial books.
St Peter's School - awarded £300
The Sharks' class at St Peter's School (Years 5 and 6) is an extremely creative class and would love to put on a musical production at the end of the school year, something that they have been unable to do the last 2 years due to the pandemic. They feel that they have missed out on so many opportunities to come together as a group and just have fun, which they feel is something they would be able to do by putting on a production.
This would take place in July and be an opportunity for the school to re-create strong links with the community. Their bid was for funding to obtain the performance rights of a musical and for the associated costumes, props and scenery.
Harvey Grammar School - awarded £200
Their bid was for a project to encourage a wider interest in nature for students at the school by installing window planters (made by the students themselves from reclaimed wood) into each classroom in the school. There would then be a competition in which students grow strawberry plants in their window boxes to see which group can produce the most fruit. The winners of which would receive a chocolate fondant fountain to enjoy their strawberries with!
Strawberry plants are relatively easy to grow, germinate annually and self-sow, which means interested students could then take a plant home and continue the 'grow your own' experience.
Disco Soup - awarded £100
Disco Soup is a creative, collaborative and celebratory approach to addressing the global issue of food waste. As Feedback Founder Tristram Stuart puts it "Disco Soup is an unparalleled format for engaging new people in the food waste movement and we love it!".
The first Disco Soup in Folkestone was held at the Radnor Park Bowls Club in November 2021, supported by a range of community partners including Kent Food Hubs Folkestone, Incredible Edible Cheriton, The Locavore Community Garden and local councillors. The surplus food at this event was obtained from Kent farms via The Gleaning Network, Morrisons Supermarket, Cheriton and individual members of the community also donated their surplus ingredients on the day.
Their bid was for funding to set up a second "Community Feast" along the same lines as the first event - a fun day out to bring local people together to use up surplus food that was destined for waste, with local DJs spinning tunes and a range of activities such as apple pressing and fermenting.